Jock Ferguson, Actor and Film Producer
| | | |
| --- | --- | --- |
| | (Scottish Actor and Film Producer) | |
| | | |
| --- | --- | --- |
| | Message to the Clan Ferguson Society of North America | |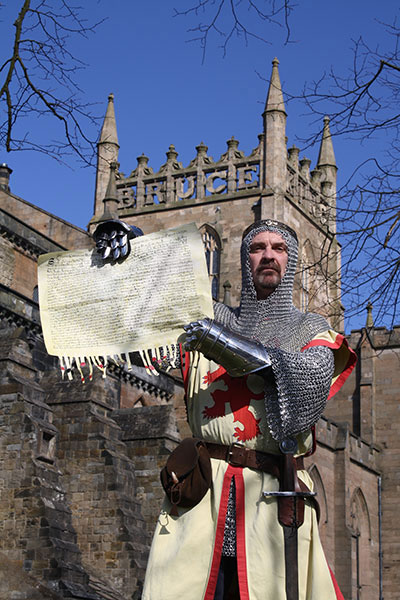 Fellow Clansmen and Women.
A Ferguson on clan lands here, Jock be my name. I doff my bunnet to you and bear you good wishes.
I am here because I was invited by Billy Ferguson (the President of the Clan Fergusson Society of North America (CFSNA), who, along with the Executive Committee of the CFSNA, has done me the great honour of granting me an 'honourary membership' in the Society and he has subsequently requested a message from me for the membership.
I fear I might disappoint but will give you my career in précis.
I am an actor. And that's about it really, doing what I can do to fuel myself, the car and the heating system.
It would be a riveting read if I could tell you I starred alongside Mel Gibson in Braveheart, read a Celtic blessing at Madonna's wedding in Scotland or cracked open a bottle of Talisker with Sean Connery after a round at St.Andrews, but no.  I am a humble foot soldier of our profession, a jobbing actor for thirty five years, in soccer terms a 'Partick Thistle' plying my trade in the lower divisions but getting an occasional game at a higher level.
My company, Herald Events (and Herald Films) stages kids shows, supper theatre, rehearsed readings and historical evenings. The nicest service we have is a Celtic hand-fasting as an embellishment at weddings and we have had many couples from America and Canada.
So I'm afraid it's small beer and I'm a battling clansman and not the king or even the chief, no.
Now instead of buying myself a BMW or Harley (fat chance!) from my earnings, instead I make films and CDs that no-one has asked for, Scottish titles, usually with plenty gravitas as an antidote to being a pirate in a kids show or Santa in the mall.
The best one is The Complaynt Of Scotland, a political satire set in 1550 and I made it while I was on welfare in Dundee, something that caused me some difficulties with the government department who surmised I must be a movie star claiming support from them.
Vindicated, the BBC bought it and screened it as part of a 'best of' Scottish films made in a fifty-year period.
Still I could not get arts funding so I made like WC Fields, 'If at first you don't succeed, give up. No point in being a damned fool about it.'
So I took whatever work I could and used some of the money to make the products I WANTED to work on.
That is not to denigrate the kids shows, the Jacobite nights and in particular my Monty Python Holy Grail theme where I'm Arthur, King of the Britons, coconuts and all.
Most of these jobs are very enjoyable and it's a whole lot better than picking root vegetables in the rain or worse, working in a call centre.
I even work as a Sean Connery impersonator and that has been a lot of fun.
One of Herald Films aims is to get material into Scottish schools to assist with the teaching of Wars of Independence projects and to that end we have a DVD, Coronation, a short film depicting Robert the Bruce's crowning but also on the disc is a thirty minute audio play wherein Bishop Lamberton of St.Andrews tells of his influence over Sir William Wallace and King Robert the Bruce. The short film is really for the kids but the audio is to help teachers. These DVDs are free and sometimes I talk to the kids as Bruce, doing a one hour presentation, laced with lots of humour amid the serious historical points.
And this is where YOU come in.
I am sending Billy a package of these and I would like them copied (there is no copyright on this work) and distributed to places where they would be appreciated.
There is also an album, Pictish Soul, featuring myself and a piper Euan Whitmore and it is the Tacitus speech given to Galgach, King of the Picts where he assails the Roman invaders and taking this, we played music and added sounds in nature (recorded in Angus, Scotland) to make a full-length album that runs seamlessly and which has enough passion to raise the dead, but hopefully not the Romans!
This is also being sent. Copy it. Do NOT sell it.
If you really want to spend money, the DVD William Wallace, the True Story features a little-known Scots actor in the title role and he also directed, narrated and wrote the scripted scenes in it.
No, I do not get royalties so I'm not selling you anything.
The recent film The Declaration of Arbroath was put on YouTube (http://goo.gl/yFSLN) on April 6th, the anniversary of its signing, originally in 1320. I DO hope you enjoy it and that you can share it with others.
The next film is about this and the American Declaration of Independence.
These two films will be combined into a production which will be called Twa Declarations. I have applied for funding to help make it with Bruce doing the Scottish part and the Reverend Witherspoon delivering the American counterpart, and although it is a modest project, I will try to sell it to American TV. With the right contacts, this could get screenings.
Two of us are working on a DVD package for Scottish schools for next year, a huge resource of material about Robert the Bruce and the Wars of Independence, but this might be relevant in other countries too.
If there is a modicum of vision within your government (there isn't here) then it would be the sort of educational tool that should be in every one of your schools.
Let's see how it pans out but if you DO have influence, I'm open to offers.
Have a look at the Declaration video to see if I'm a schmuck or not.
So aye, I'm Johnny Appleseed for Scottish culture and it is immensely satisfying seeing the responses it can bring.
People like me don't win awards, don't get arts funding, don't get features in smart newspapers and don't get the call from Hollywood and I'm far from alone in Scotland.
Maybe it's a Ferguson thing but I have a determination to produce work and although most of my that is in the field of 'light entertainment' I am not going to be limited to the 'fun' end of the market.
So I now pass the baton to you so please get the work seen and heard by as many people as possible.
Could the Fergus(s)ons assist with me making contact with schools in North America so I can begin with sending "Coronation" to schools and colleges? Might it go out as an e-mail or through facebook?
And if you're in Scotland and want something better than the usual tourist tartan tat:
http://www.herald-events.co.uk/
'Think of those that came before you and of those who shall come after.'
As one of your countrymen said, "I started out with nothing, and I've still got most of it left".
Jock
Webmaster's notes
To receive a copy of Jock's DVDs, contact President Billy Ferguson at bjferguson@mac.com. Please specify which DVDs you would like to have.)
The Declaration of Arbroath was a document written in Scotland in 1320 which sought to assert Scotland's independence from England. The most widely known English language translation was made by Sir James Fergusson. One passage in particular is often quoted from the Fergusson translation:
"…for, as long as but a hundred of us remain alive, never will we on any conditions be brought under English rule. It is in truth not for glory, nor riches, nor honours that we are fighting, but for freedom – for that alone, which no honest man gives up but with life itself..")
(For a YouTube video excerpt from the film Coronation with Jock Ferguson reciting this quotation Click here)
Jock Ferguson in Other YouTube Videos
"The Address to the Haggis"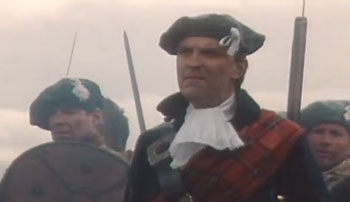 At the Battle of Culloden as Lord George Murray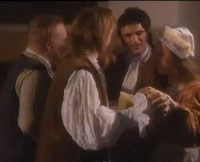 As Robert Burns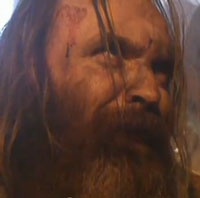 As William Wallace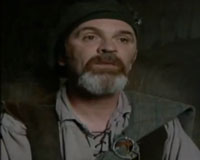 Jock speaks about William Wallace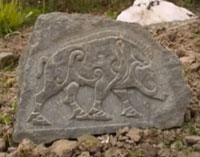 Foundations Part 1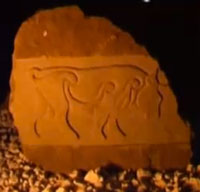 Foundations Part 2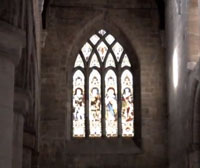 Carnegie