Clan Fergusson Society of North America Shoulder Boards
"They are beautifully done and great detail on the thistle and bee!" Dana Ferguson, RVP Region 10.
Shoulder Boards are authorized for permanent wear upon the completion of one term of office. They are authorized for temporary wear prior to that time.
Item description:
These shoulder boards are made with black cloth secured to hard material underneath. They have black colored narrow elastic straps on the underside which are used to secure them to the shoulder straps of miliary style shirts, Prince Charlie jackets, or similar clothing. Silver embroidered ribbons indicate the position of the wearer in the CFSNA organization. A silver thistle and bee metal device is attached immediately above the silver ribbons, except for the member's boards which have only the metal device.
The boards come in pairs. If not worn on shoulder straps, there are several other options for displaying them: For example, one of the pair could be pinned on a garment in an appropriate location, such as a pocket, or worn on a neck lanyard. If not worn, the pair could be displayed in a shadow box with one's certificate of appointment or certificate of membership.
Top Row (L-R) Current President; Past President; Executive Committee; Regional Vice-President.
Second Row (L-R) Staff-Group 1; Staff Group 2; Staff Group 3; Member.
Staff – Group I includes Accountant, Chaplain, Editor of The Bee Line, Genealogist, IT Mgr, Merchandise Manager, Pipe Major, and Quartermaster.
Staff – Group II consists of the chairs of all committees including Awards, Events Coordination, Photography, Proof Reading, Publications, Publicity & Social Media, Scholarships/Charitable Works, and Trip Advisory. It also includes Conveners.
Staff – Group III includes assistants and apprentices (all positions)
A shipping charge will be added during checkout. The amount of the charge is based on the total dollar amount of the items ordered. For reference, shipping rates are shown at the bottom of this page.

(If preferred – instead of ordering online – a form is provided at the bottom of this page that can be used to mail an order for processing).
[wp_eStore_cart_with_thumbnail]
[wp_eStore_category_products_fancy id=13 style=13]



MERCHANDISE ORDER FORM

Instead of ordering online (above), the form below can be

downloaded

, filled out, and mailed to the CFSNA Merchandise Manager together with a check or money order for processing.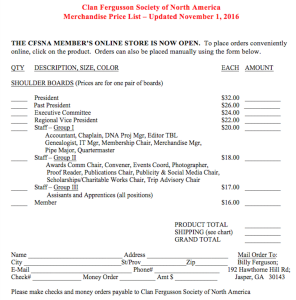 | | | |
| --- | --- | --- |
| | ONLINE STORE AND FORM ORDERED SHIPPING RATES | |



(The CFSNA is a non-profit organization in compliance with 501(c)(3) of the IRS code. Purchases from the CFSNA store; membership fees and dues are all tax deductible. After expenses, all proceeds go towards the Society's charitable activities.)